Page 2 of 3



We happened to report to US Customs and Immigration at about 9:10 on the morning of September 11th 2001.  We cleared customs minutes before the border between Canada and the US was closed completely.  The reality of 9/11 set in and we decided to continue with some trepidation.  We frantically tried to contact a friend in New York and were relieved to know he was okay, and mad that someone had attacked our friends, all of us.  The WTC is located very near the Hudson River, and all of New York Harbour was closed to vessel traffic.

The Erie Canal was a lovely trip through upper New Your State.  We really enjoyed Waterford, which is at the confluence of the Erie Canal, the Hudson River and Lake Champlain.  Waterford supplies a rent-free dock with free facilities for cruisers.  Several cruisers were holed up in Waterford as New York Harbour was closed.  This was the first time we got to spend time with other cruising people and found we were among a group of awesome people.  Just as importantly, we all had time on our hands.

When the harbour was opened we headed down to New York City, and spent a week with a friend while Cassiopeia was tied to a mooring just off W 79th street for $15 a night - this is easily the cheapest way to see Manhattan.  Ground Zero was still a smoldering pile of rubble when we arrived.  To buy some charts of the ICW we needed to go down near Ground Zero.  The area was closed off with pylons, but people were moving about, going about their lives quite unfazed.  Everywhere there were billboards jammed with missing person notices - people hoping that their loved one was injured and lying unconcious in a hospital.  It was heartbreak.

Despite all this we had a wonderful week in New York.  Returning to our boat after a week on shore felt like coming home, and we realized we were happy with our trip.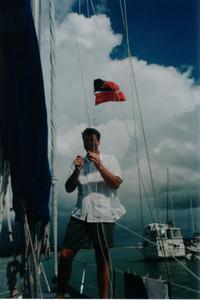 From New York we travelled on the ocean to Cape May.  This was our first time on the ocean and it was somewhat unnerving.  In the blackness of a moonless night at sea I was constantly reassured by the bright and tacky lights atop Donald Trump's Taj Mahal in Atlantic City.

Our first trip on the ocean also brought our first  uncomfortable sailing experience.  We had left the shelter of New York Harbour around noon.  Things went fine all night.  The wind died as the sun came up and I couldn't start the motor (we would later find that the headgasket had blown.)  Unfortunately we killed our batteries trying to start the motor, and without battery power we had no VHF radio and no navigation lights.  In the afternoon the wind came in from ahead and we had a frantic beat upwind to Cape May, making it inside the jetty as the last bit of light drained out of the sky.  This was a big lesson for me: be better prepared.

In Cape May we were forced to spend time at a Marina, at $100/day waiting for a new headgasket to be delivered and installed.

From Cape May we crossed Delaware Bay and took the C&D Canal into the Chesapeake Bay.  Down the Chesapeake to Norfolk, VA where the Intracoastal Waterway begins.