Page 3 of 3



The Intracoastal Waterway (ICW) is a protected route from Norfolk, Virginia to Miami, Florida 1080 miles to the South.  The term "protected" means that there is no requirement to travel on the open ocean, but some stretches cross large bodies of water (such as Albermarle Sound) and there can be strong tidal currents near inlets.  The ICW is a major corridor for commercial shipping.  We shared the road with 1000 tonne barges and the like.

The ICW is in spots beautiful and wild, at times industrial and polluted.

The ICW is packed with cruisers heading South for the winter.  Because boats of the same size travel at about the same speed, we found ourselves in the same company for days on end.  Friendships began to develop, helped along by the VHF radio which functions as a universal meeting place - there are no secrets in the VHF.  It is not impolite to listen in on conversations.  In this way everyone knows everything, plans come together, and the fabric of community begins.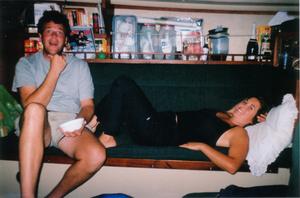 The ICW was a lot like a job.  We would awake each morning in the cold.  I would start the engine and pull up the anchor to get us underway.  Alysa would make coffee and breakfast below.  We would eat our lunch underway and stop in time for dinner, usually about 50 miles and 10 hours later.  We would eat our dinner by lamplight and read until the cold drove us into bed.  It was not unusual for us to sleep 12 hours or more a night!  Some days we chose not to travel at all, opting instead to walk about ashore, or take care shopping, laundry, etc.

There are beautiful parts of the East Coast that can only be appreciated from a small boat.  The swamps of Georgia were particularly beautiful and devoid of development.

All tolled it took us about 3 months to make it to Miami, and another few days to make it to Boot Key Harbour, A.K.A. Marathon, Florida, about half way between Miami and Key West.  Boot Key Harbour is a perfectly protected harbour and attracts many boats and sailors of all kinds.  It is also a great place to wait for a good weather window to cross the Gulf Stream to the Bahamas while you provision your boat and drink margueritas, etc.